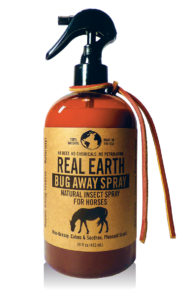 100% Natural and Organic ingredients
Active Ingredients: (Cymbopogon Citratus) Lemongrass (Melaleuca Alternifolia) Tea Tree Oil (Cymbopogon Nardus) Citronella Oil, (Juniperus Ashei) Cedarwood Oil, (Lavandula Officinalis) Lavender Oil, (Rosmarinus Officinalis) Rosemary Oil, Polysorbate 20  Inactive Ingredients: Aqua (Deionized Water)
Real Earth Natural Insect Spray for Equine
$24.99
REPELS BITING INSECTS—NATURALLY
A natural effective insect repellent safe for all classes of horses. Natural protection against mosquitoes, biting flies, black flies, stable flies, horse and deer flies, gnats, no-see-ums, ticks, chiggers, and many other pesky insects that can cause damage and irritation to equine—Great smelling fresh scent!
16 fl Ounces
Calms and soothes
Sweat and water resistant
Non-greasy
Easy to pack and it works—big time.